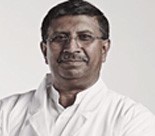 Mansoor M Ahmed
Director, Department of Radiation Oncology
Mansoor M Ahmed, Ph.D., is the Director, Division of Radiation Biology and Molecular Therapeutics at the Department of Radiation Oncology, Albert Einstein College of Medicine, New York, NY.  Prior to this assignment, Dr. Ahmed was the Program Director in Radiotherapy Development Branch and lead organizer of Molecular Radiation Therapeutics Working Groups in Radiation Research Program. During his NCI tenure, Dr. Ahmed managed a portfolio of grants in signal transduction, radiation immune response, cancer stem cells, and in vitro and in vivo models in radiotherapy. He conducted several cancer research outreach activities in India, China, and IAEA through NCI's Centre for Global Health.
Dr. Mansoor M. Ahmed received his Ph.D. from the University of Madras in Environmental Toxicology studying cytogenetics and molecular biology of pesticide-induced myelodysplastic syndrome in farmers from South India. He then had 18 months of training as a Monbusho Scholar at the Research Institute for Radiation Biology and Medicine, Hiroshima University, Japan, where he studied the molecular biology of Non-Hodgkin's lymphoma and T-cell leukaemia in A-bomb survivors. Dr. Ahmed studied micro-dissection of chromosomes in solid tumours and radiation-induced signal transduction during his post-doctoral training at Thomas Jefferson University in Pennsylvania and the University of Kentucky. He held his first faculty position at the University of Kentucky, Department of Radiation Medicine, where he established a Molecular Radiation Biology Program. After his tenure at the University of Kentucky, Dr. Ahmed joined Weis Centre for Research at Geisinger Clinic and, later, the University of Miami, Department of Radiation Oncology, where he established programs in Molecular Radiation Biology. At all three centres, including Fox Chase Cancer Centre, he taught Mammalian Radiation Biology for residents of radiation oncology.
His primary research focuses involved employing various novel strategies to increase the therapeutic ratio through two broad areas: (1) the manipulation of tumor control by modulating the processes that control cell cycle and apoptosis; and (2) the reduction of normal tissue morbidity by applying the emerging information on the molecular mechanistic basis of radiation or chemotherapeutic sensitivity. His seminal contributions include:
Identification of EGR-1 as a marker of radiation resistance in prostate tumors,
Identification of TGF-beta signaling for radiation response in pancreatic cancer,
Utilizing low-dose radiation as a chemo-potentiator, and
Identification of abscopal factors in high dose hypofractionated radiation therapy.
His major interest is in the best way to apply radiation fractionation schemes from a mechanistic standpoint. His translational, pre-clinical research on low-dose radiation as a chemo-potentiator resulted in the development of novel clinical protocols for head and neck, lung, ovarian, and pancreatic cancers. More recently, his group has described seminal mechanistic findings on bystander signal transduction pathways in response to high-dose ablative radiotherapy. This was translated into clinics that were using Lattice radiotherapy in several solid tumors. During his career, he has more than 150 peer-reviewed publications with several invited reviews and chapters. He recently co-authored a book titled: Hypofractionation: Scientific Concepts and Clinical Experiences.