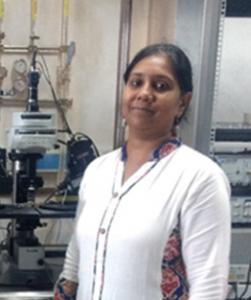 Rakhi Pal, PhD
Senior Scientist, Stem cell biology and drug discovery
 A physiologist by training from Presidency college, Kolkata, Rakhi pursued her Masters at AIIMS, New Delhi followed by a PhD from Manipal University.
During her stint in the biotech start up industry, she was instrumental in developing regulatory approved clinical grade adult stem cells for specific therapeutics applications, a first of its kind in India. She has more than 10 years of stem cell biology related research experience and is curious to understand the pathophysiological basis of neurological disorders, using humanized systems. Such technology platforms open up unlimited access to human tissue material in a unique manner, which is useful for drug testing, toxicity studies, gene editing and personalized medicine in a human relevant context.
Further, she moved to the National Centre for Biological Sciences, Bangalore to pursue her academic research interests and played a pivotal role in setting up the Centre for Brain Development and Repair.  At NCBS, she investigated the role of FMRP during neural development and how astrocytes modulate neuronal firing patterns.
Currently, she studies neuron-glial interactions in movement disorders such as Spinocerebellar ataxia, using in vitro models to identify how/why brain cells behave differently in these patients.
Besides having a number of publications and one global patent, Rakhi  is a university rank holder and a gold medallist.
Publications