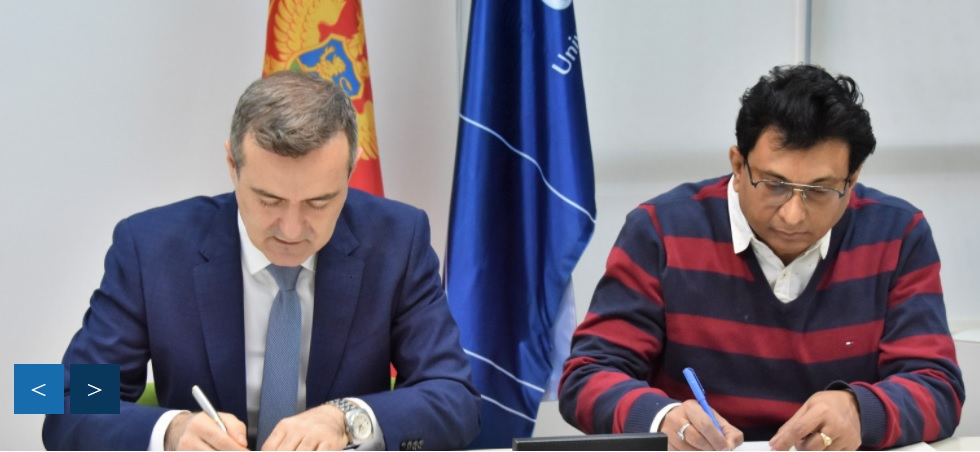 Rector of the University of Montenegro Prof. Dr. Vladimir Božović and the leading development officer of the TCG Centers for Research and Education in Science and Technology (TCG CREST) in Kolkata, Joydeep Bhattacharya, signed today, in the University Rectorate building, an Agreement on Cooperation with the aim of  joint collaboration in science, teaching, professional and expert areas.

The signing of the Agreement was attended by the Vice-Rector for Internationalization of UoM, Prof. Dr. Sanja Peković, Vice-Rector for Science Prof. Dr. Irena Orović, Vice-Rector for Teaching Prof. Dr. Veselin Mićanović, as well as the Head of the Center for Cryptology and Security of TCG prof. Bimal Roy and professor of the Mathematical Institute of the Serbian Academy of Sciences and Arts in Belgrade (SANU), Miodrag Mihaljević.

The agreement lays the foundations for promoting and encouraging cooperation between the two institutions on joint projects in the field of data-based intelligence, cyber security, cryptology, artificial intelligence, machine learning, computer science and engineering, quantum computing and communication, sustainable energy, clean energy and and discoveries in the field of neuroscience.

Rector Božović said that by signing this document, in the next five years, the University strengthens cooperation with the Indian Center, which strives for excellence in research and education, in new areas of science, with a special focus on cooperation in development projects and research activities.

Mr. Bhattacharya expressed satisfaction with the signing of the Agreement, especially since there are a large number of talented researchers and scientists in Eastern Europe. Within the Center, as he said, global research is manifested by strong cooperation with global partners and the engagement of talented researchers around the world.

Cooperation activities will be implemented through the organization of scientific and technical gatherings organized on topics of common interest, staff exchange, as well as the identification of projects for joint research and development.

Please click here for more details.