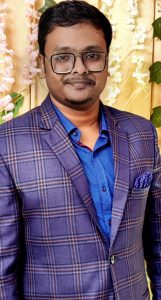 Aninda Banerjee
Junior Research Fellow, IAI – TCG CREST
Research Interest


 I am currently focused on Low Dimensional Topology, Knot Theory, Knot invariants, Khovanov Homology, Braids, manifolds of dimensions 3 & 4. etc. I am also exploring areas of Differential Geometry, i.e., Vector Bundles, Classifying spaces, etc., and Algebraic Topology.


Project Experience
(M.Sc Project) This project was on Algebraic Geometry. I have studied some basic aspects of algebraic geometry and finished the project with an Interesting proof of Hilbert Nullstelensatz, under the supervision of Dr. Suparna Sen.



(B.Sc Project) The project was on Topological groups and the introduction of Haar measure on a locally compact topological group under the supervision of Dr. Pabitra Debnath.
Academics


M.Sc in Mathematics from

University Of Calcutta

, Pure Mathematics Department (2019-2021)


B.Sc in Mathematics from

St. Xavier's College

, Kolkata, (2016-2019)


Achievements
GATE (MA) Qualified.

NBHM (written) Qualified.

ISI, M.TECH (CrS) Shortlisted.