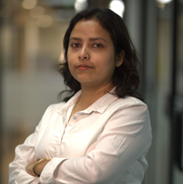 Arpita received her Bachelor's in Microbiology from Rastraguru Surendranath College, under University of Calcutta and Mater's in Microbiology and Microbial technology from University of Kalyani, where she holds 3rd rank in the university level. She obtained her PhD from University of Calcutta in the area of Microbial Fuel Cells for wastewater treatment and clean energy generation. After a short stint of teaching in Rastraguru Surendranath College as a guest faculty, she moved to University of Calgary, Canada to work on developing alternative energy harvesting technologies from  unconventional resources to lower carbon footprint on the environment. Subsequently, she moved to University of Bath, UK for her second postdoctoral tenure to work on bioremediation techniques for hydrocarbon contaminated soil, and thereafter she joined as a research associate in Indian Institute of Science Education and Research, Mohali. She is an assistant professor in RISE since January 2023.
Contact: arpita.nandy@tcgcrest.org
---
Awards & fellowships received
She is recipient of several fellowships, and a few selective ones are: Senior Research Fellowship by CSIR (2014), DS Kothari Postdoctoral Fellowship (2018), Research Associateship (RA) by DBT (2022).
---
Broad Research Interests
Her research interests are interdisciplinary in nature, encompassing Microbiology, Electrochemistry, and Environmental Biotechnology. Her broad research focus is towards advancement of integrated biotechnologies for developing sustainable solutions for waste remediation and clean energy generation. She is specifically exploring alternative and innovative strategies, such as integrated Bioelectrochemical Systems (BES), for environmental remediation, and renewable fuel production from organic waste through advanced bioassisted methods.
Present Research 
Developing Bioelectrochemical Systems (BES) Integrated Technologies for Environmental Remediation

Development and Optimization of Strategies for BioHydrogen Production from Organic Waste through Advanced Bioassisted Methods

Detail Understanding of the Electrochemically Active Biofilms in BES
Publications
Arpita Nandy, Vikash Kumar, P. P. Kundu. Effect of electric impulse for improved energy generation in mediatorless dual chamber microbial fuel cell through electroevolution of Escherichia   coli. Biosensors and Bioelectronics, 79, 2016, 796-801
Mohita Sharma, Arpita Nandy, Nicole Taylor, Senthil Velan Venkatesan, Vinayaraj Ozhukil Kollath, Kunal Karan, Venkataraman Thangadurai, Nicolas Tsesmetzis, Lisa M Gieg. Bioelectrochemical remediation of phenanthrene in a microbial fuel cell using an anaerobic consortium enriched from a hydrocarbon contaminated site. Journal of Hazardous Materials, 389, 2019, 121845
Arpita Nandy, Vikash Kumar, Sudipta Mondal, Kingshuk Dutta, Maryam Salah, P.P. Kundu. Performance evaluation of microbial fuel cells: effect of varying electrode configuration and presence of a membrane electrode assembly. New Biotechnology, 32, 2015, 272-281
---
https://scholar.google.co.in/citations?user=nCPVa_UAAAAJ&hl=en
https://www.researchgate.net/profile/Arpita-Nandy