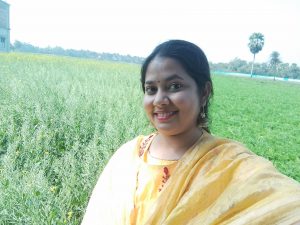 Umme Joinab
Junior Research Fellow, IAI – TCG CREST
Research Interest


Algebraic Topology


Graph Theory 
I am passionate about the synergy between algebraic topology and graph theory. My research aims to bridge these fields by exploring algebraic
invariants of topological spaces, developing graph-based algorithms, and uncovering novel connections. This interdisciplinary approach enriches our understanding of both algebraic structures and combinatorial graphs.
Academics
M. Sc in Mathematics,

Calcutta University, Pure Mathematics Department (Ballygunge Science College)  
B. Sc (Hons.) in Mathematics, Calcutta University, Victoria Institution (College)
M.Sc Project
Master Dissertation Topic: "PRIMARY DECOMPOSITION OF IDEALS IN COMMUTATIVE RING".


Supervisor: The project was done under the skillful guidance of Prof. Dr. Sunil Kumar Maity, Associate Professor, University of Calcutta.
Achievements 
Qualified CSIR-NET (Lectureship) – June 2021, June 2022
Cleared GATE in Mathematics – 2022, 2023
Contact

E-mail: ummejoinab23@gmail.com